Admissions
From September 2011 all primary schools must offer children a full-time place at the start of the September term. However, legally children do not have to be in full-time education until the term after their 5th birthday. Delaying your child's entry into school is called 'deferred entry'. You can request this, but your child must start before the end of the school year during which they turn 5.
Admission Arrangements
Kimpton Primary School is a Community Primary School and therefore is subject to the admissions arrangements and oversubscription criteria of Hertfordshire County Council. These can be found by clicking on the link below
https://beta.hertfordshire.gov.uk/services/schools-and-education/school-admissions/school-admissions-and-transport.aspx
All applications should be made through Hertfordshire County Council.
Admission to Kimpton Primary School Nursery
Applications for our Nursery, which is open Monday - Thursday 8.45am – 3:15pm and Friday 8:45am - 1:00pm, should be made directly to the school if you wish your child to start in September (Sept 1st – Feb 28th/29th birthdays) or January (March 1st – August 30th birthdays).
Kimpton Primary School Nursery Admissions Policy 2017
Kimpton Primary School Nursery Application Document
If you wish to apply for an 'in-year' place, please contact the school direct.
If you are considering applying to our school or nursery, we would be delighted to show you around. Please contact Mrs Bev Caner, in the office, on 01438 832 394 or email admin@kimpton.herts.sch.uk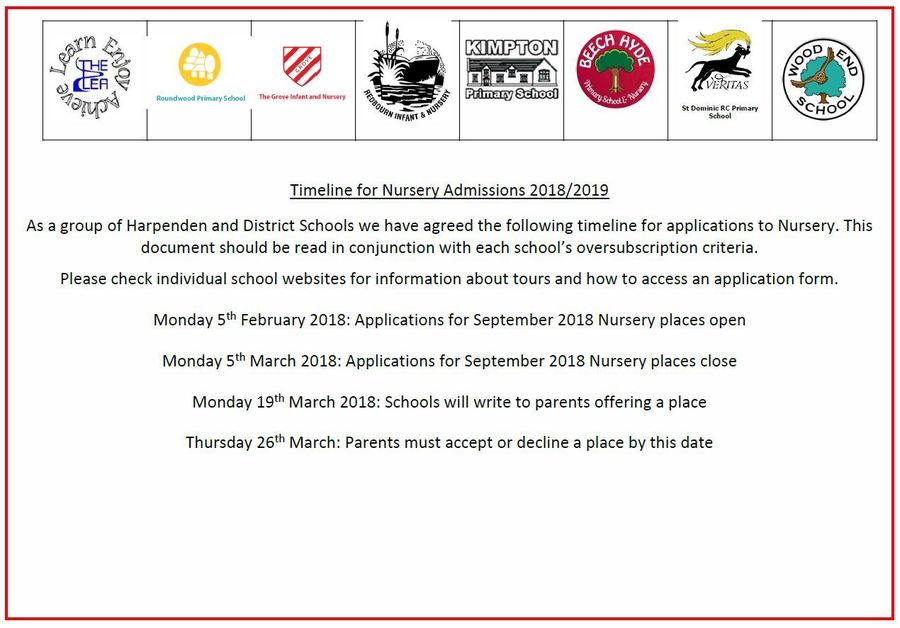 APPLY ONLINE
More and more families are applying online at www.hertsdirect.org/admissions. If you need any help with applying online please call 01438 737500 and they will be happy to help you.
Applying Online: It is quick, safe and secure; you can check or change your details right up to the deadline; you can receive instant confirmation by email and you can view your school offer before you receive your letter!
CONTINUED INTEREST OR APPEALS PROCESS
Please contact Hertfordshire County Council Customer Services on 0300 123 4043.
HOW HERTFORDSHIRE COUNTY COUNCIL PROCESS YOUR APPLICATION
They treat each of your three rankings as a separate application, regardless of the order you have listed them in, and work out how well you qualify for each school using the admission rules. If the schools receive more applications than they have places available, they use their admission rules (as seen below) to decide to whom they can offer a place. Places are allocated to those who best meet the published admission rules.
Rule 1 – Children in public care (Looked after children).
Rule 2 – Medical or Social: Children for whom it can be demonstrated that they have a particular medical or social need to go to the school.
Rule 3 – Linked School.
Rule 4 – Sibling.
Rule 5 – Children for whom it is their nearest community or voluntary-controlled school.
Rule 6 – Children who live nearest to the school.
Parents may request the name of their nearest school by calling the Customer Service Centre 0300 123 4043.