Computing
Subject Lead: Mr Ferguson
In computing, we live and breathe our school vision!
All pupils are safe and happy,
Every part of our computing is underpinned by eSafety, teaching children how to navigate safely through the online world. Staff undergo additional online safety training from Herts for Learning, to make sure they have up to date knowledge in order to best support all pupils. Every year, the school takes part in 'Safer Internet Day' as a way to spotlight this key area in a pupils' development. Furthermore, we teach a specific online safety unit each year and take every opportunity to discuss online safety with our children.
Inspired with a love of learning,
Computing is an essential skill for life and enables learners to participate more readily in a rapidly changing world. However, the challenge is always to make this fun and inspiring and to develop a passion for the subject. At Kimpton this is our goal. We have 30 laptops, 20 iPads, interactive smart boards as well as additional software and technology to bring learning to life. Check out the videos and photos to get a taste of what we do.
Achieving today and ready for tomorrow.
Our curriculum is designed to build on the previous year's learning and you can see this from the colour coordinated chart below. We follow the scheme Purple Mash which is a new creative online space from 2Simple. Purple Mash hosts an exciting mash-up of curriculum focused activities, creative tools, programs and games to support and inspire creative learning every day. From poems to newspapers, masks and 3D models, animations and textured paintings, Purple Mash supports a creative curriculum throughout the year. As Purple Mash is online, children can continue their learning anywhere and anytime. Each user receives an individual login to save and retrieve their work.
Nursery
Pupils using the interactive whiteboard to problem solve.
5 Mexico
Pupils using the laptops to discover all about ancient Maya.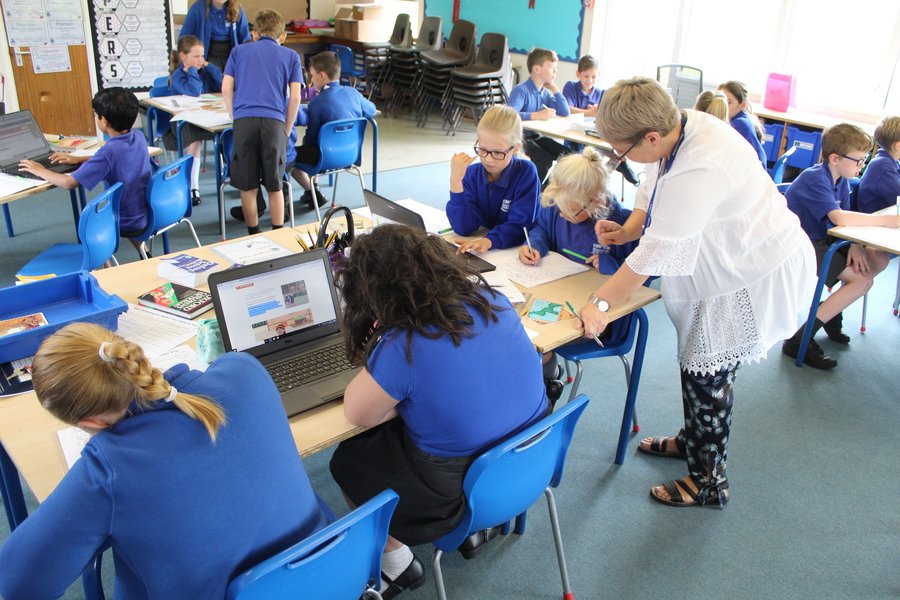 Movie Making
This is a model that our KS2 children made to show others years how they can take a basic scene of someone running and engage the audience with different camera angles and visual effects. They all went on to make their own movies.
Safer Internet Day 2020
Each child designed their own section of bunting to show what apps and online websites or games they are accessing.