Music
Subject Lead: Mrs Thompson Nash
Music: practical, exploratory, integrated and child-led!
We love music at Kimpton! Beginning in the EYFS, children explore using rhyme, rhythm and song to support learning and express creativity. Listening skills form a critical part of the early learning goals from language development to social and emotional learning - our skilled early years practitioners harness this through music to help all children make good progress across the curriculum.
Building blocks to learning
In Year 1 and beyond, our school music teaching is rooted in the 'Charanga' planning platform. This award-winning scheme and the resources it uses have garnered great feedback so far from both the children and the staff who initially trialled it at our school.
Our music progression through the school, builds on previous years' learning through the interrelated dimensions of music. Starting with pulse, rhythm and pitch in the younger years, students are gradually introduced to dynamics, tempo, timbre, structure, texture and notation. These elements are continually reviewed and knowledge deepened in each successive term.
We supplement this with cross-curricular links - our class assemblies are noted for musical mash-ups showcasing our learning in History, Geography, Science and Maths. Every sequence of music lessons incorporates listening and appraising, creating and exploring - including improvisation - and performance. Below, you can see how this looks as children move through the school.
Assessment
Throughout each unit of work, teachers can record and upload evidence of children's learning to help monitor progress. Within lessons, individual and group activities such as call-and-response exercises allow for each pupil's attainment to be noted, providing opportunities to support and challenge.
Chronology
Children build an understanding of how different genres and composers fit together, referring their musical learning to their wider knowledge of world history.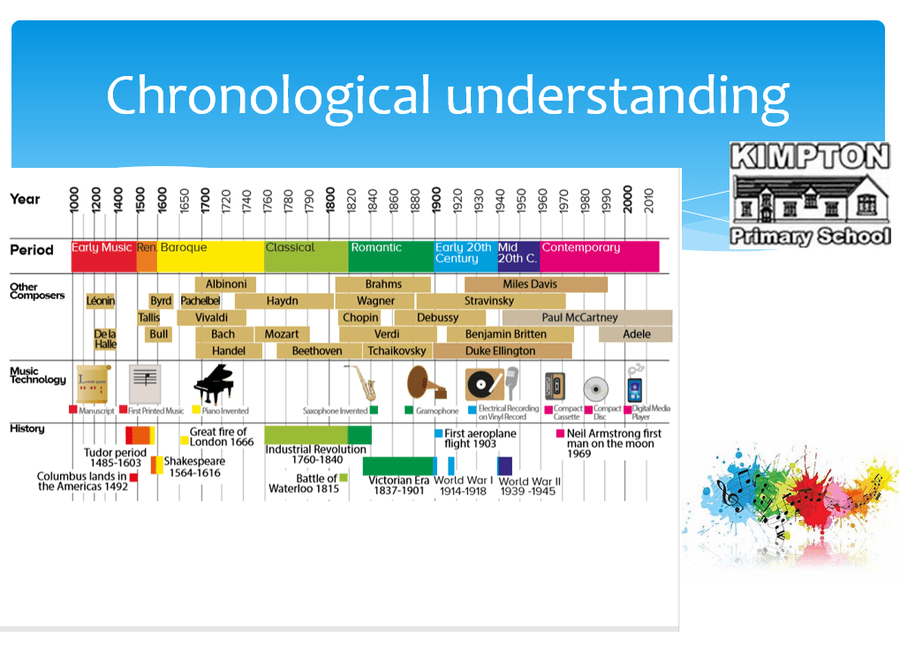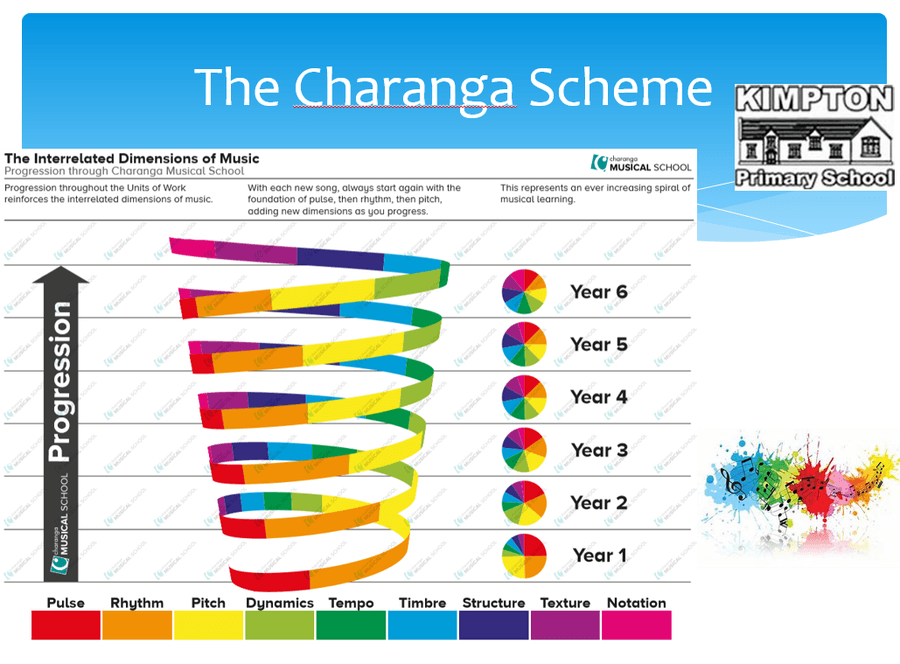 Developing Musicianship
To be able to develop musicianship further within the school, we commit to providing a range of musical groups and opportunities to foster a love of music and encourage a long lasting interest in learning an instrument or being a part of a musical group.
Currently, the school clubs on offer include:
Orchestra

Rock Steady bands

Theatre club
Contact the office to register your interest. These groups perform at roughly termly to the school and to parents. Our evening concerts often feature refreshments provided by our wonderful PTA.
Opportunities for Tuition
Our school is currently visited by two peripatetic music teachers - John Blackshaw (brass) and Helen McPhun (woodwind). They are available to book for music lessons from Year 3 onwards, depending on their availability and waiting lists which they manage. They can be contacted via the school office.
Other lessons can be arranged externally and can be accessed through the Hertfordshire Music Service, which have their own website http://www.hertsmusicservice.org.uk/music-lessons/. Here, it states that the music service could potentially offer additional instruments to students at our school if sufficient interest is there - talk to us if there's something new you'd like to see in our music provision!
Regular Performances
Performance is an important part of music. For both our talented musicians (who may have peripatetic music lessons) and others with a passion for singing, we provide many different opportunities throughout the year to participate in. These musical offerings include:
Harpenden Rotary Carols

Harpenden Music Spring Festival

Young Voices massed choirs event (O2)

Kimpton Christmas Carol service

Kimpton Harvest Festival

Kimpton Folk Festival

Kimpton Christmas Market

Kimpton May Festival
Singing Assembly
Every week, our children sing together in our singing assembly. Here is our current favourite - the cross-curricular 'Do It, Be It' song about verbs!