Science
Subject Lead: Mrs Ledger
School Closure
Are you looking for some inspiration for home learning in Science, or other STEM subjects? Check out some of the resources below for a range of great activities to keep those busy brains learning at home:
CREST offer a range of brilliant practical activities which can be completed at home. The Star Awards are for children aged 5-7 years, and the Superstar Awards are for children aged 7-11 years. Track your progress on one of the printable passports, and complete 8 activities to earn your certificates!
Have a look at the Twitter post at the bottom of this page to see our Superbs bubble in action making a 'Muddy Mess' as part of their Crest Award!
Explorify - Science with feathered friends
Explorify is a great resource with videos, quizzes, and loads more online activities for children age 5-11. This week's resources are all about birds and their habitats.
Intent
At Kimpton Primary School we understand the need for all pupils to develop their Scientific curiosity as an essential component of all subjects and as a subject in its own right. A good level of scientific knowledge and conceptual understanding helps support pupils' learning across the curriculum.
We have created a set of principles which outline what our science teaching aims to be.
Implementation
To ensure high standards of teaching and learning in Science, we implement a curriculum that is progressive throughout the whole school. Planning gives full coverage of 'The National Curriculum programmes of study for Science 2014' and appropriate stands of the Early Years Foundation Stage. We use Science Wheels to track the progression of scientific enquiry skills. Science teaching at Kimpton Primary School involves adapting the curriculum to match all pupils' needs.
In EYFS, children will start to gain the scientific knowledge and skills that they'll build on throughout their education. Through regularly planned opportunities for play, they will look closely at similarities, differences, patterns and change. Through exploration both indoors and out, they will talk about the features of their environment and how environments might vary from one another. They will discover the importance of good health and talk about ways to keep healthy and safe. A love of learning and scientific curiosity will be encouraged as they learn to observe, predict and discuss.
In KS1 and 2 Science is taught as discrete units and lessons to ensure coverage. Lessons are taught consistently, once a week for up to 2 hours, but links are made throughout all areas of the curriculum.
Science in our school is about developing children's ideas and ways of working that enable them to make sense of the world in which they live through investigation, as well as using and applying skills. They are immersed in scientific vocabulary, which aids children's knowledge and understanding not only of the topic they are studying but of the world around them.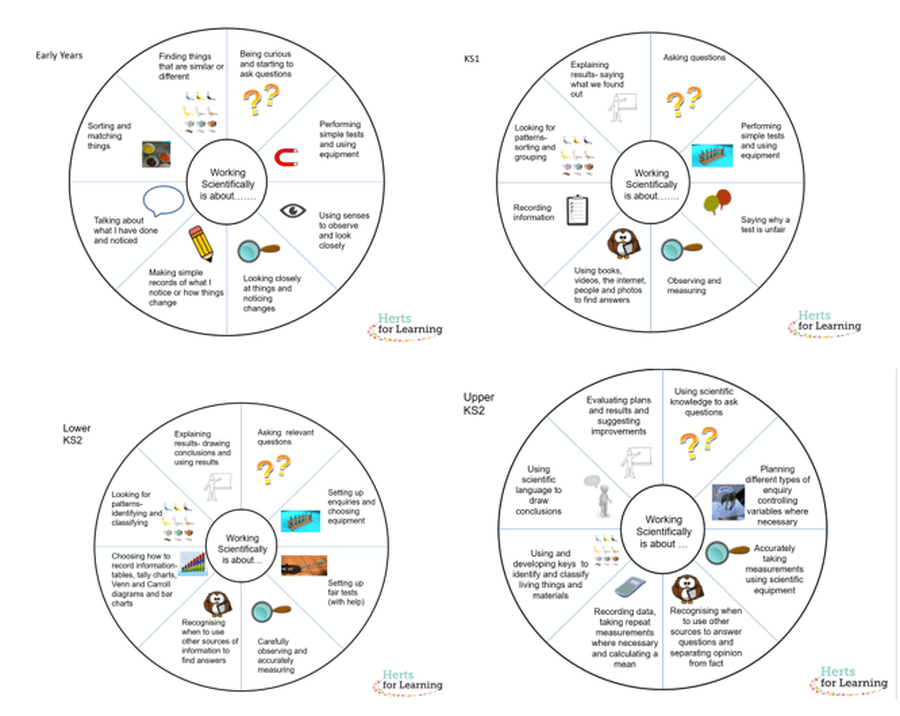 Our vision for children with special educational needs and disabilities is the same as for all children and young people – that they achieve well. We provide high-quality opportunities for them to develop their Scientific Skills and Knowledge tailored to their needs. Children are provided with a range of support and different scaffolds to help them learn including pre-teaching of vocabulary, explicit modelling and use of technology.
Outdoor Learning and Trips
Science Week 2020 and Science Displays