We have been marking National Safeguarding Month through highlighting school procedures in our weekly newsletters. Please see our March 2017 Newsletters for more details.
Safeguarding Our Children
Kimpton Primary School is committed to safeguarding and promoting the welfare of children and expects all staff and volunteers to share this commitment. This means that we ensure that everyone working in our school has successfully completed the necessary clearances to enable them to work with children.
We have a number of policies and procedures in place that contribute to our safeguarding commitment, including our Child Protection Policy which can be viewed in the Policies section of our website.
It also means that we have staff members who are specifically trained and nominated as the Designated Safeguarding Leads (DSL) within school.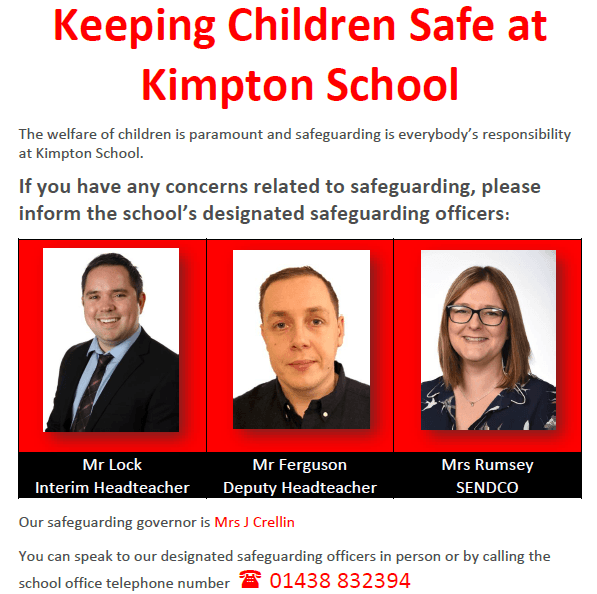 We are all expected to share any concerns we have about staff conduct around children with the Headteacher. As in all schools, if there are concerns about the conduct of the Head, then these should be shared with the Chair of Governors. The staff 'Whistleblowing Policy' has been discussed and adopted and all staff have access to this document and understand about all that it entails.

We also follow the Hertfordshire Child Protection Procedures and the Local Safeguarding Children's Board local guidance. The 'Keeping Children Safe in Education' is valued and understood by all staff at our school. We have systems in place to share concerns regarding children's welfare, child sexual exploitation, PREVENT/radicalisation and female genital mutilation with our DSLs, with parents and with relevant external agencies.
Part of our legal duty to safeguard our children, may also include us needing to consult specifically with and take advice from, the Police or Children's Social Care, should the need arise.
By working closely together as a staff and with our partner agencies, we firmly believe that we will continue to offer a safe learning environment for all our children.

Please take the time to read our policies and do not hesitate to contact the school should you have any questions about this very serious issue.

Notice to Visitors/Volunteers
This School is committed to safeguarding and promoting the welfare of Children and Young People and expects all Staff, Volunteers and Visitors to share this commitment.
Everyone on the school site agrees to follow our Acceptable ICT Usage policy. Please can we remind you that photos are permitted at school events as long as they are of your own child only and they are not shared on social media platforms.
Useful Web Links for Parents / Carers
Print this guide: What are parental tools?
Parent e-safety Information Articles - feed.parentinfo.org/articles/all/