Internet Safety
Top Tips For Staying Safe Online!
Always ask a grown up before you use the internet. They can help you find the best thing to do.
Don't tell strangers where you live, your phone number or where you go to school. Only your friends and family need to know that.
Don't send pictures to people you don't know. You don't want strangers looking at photos of you, your friends or your family.
Tell a grown up if you feel scared or unhappy about anything.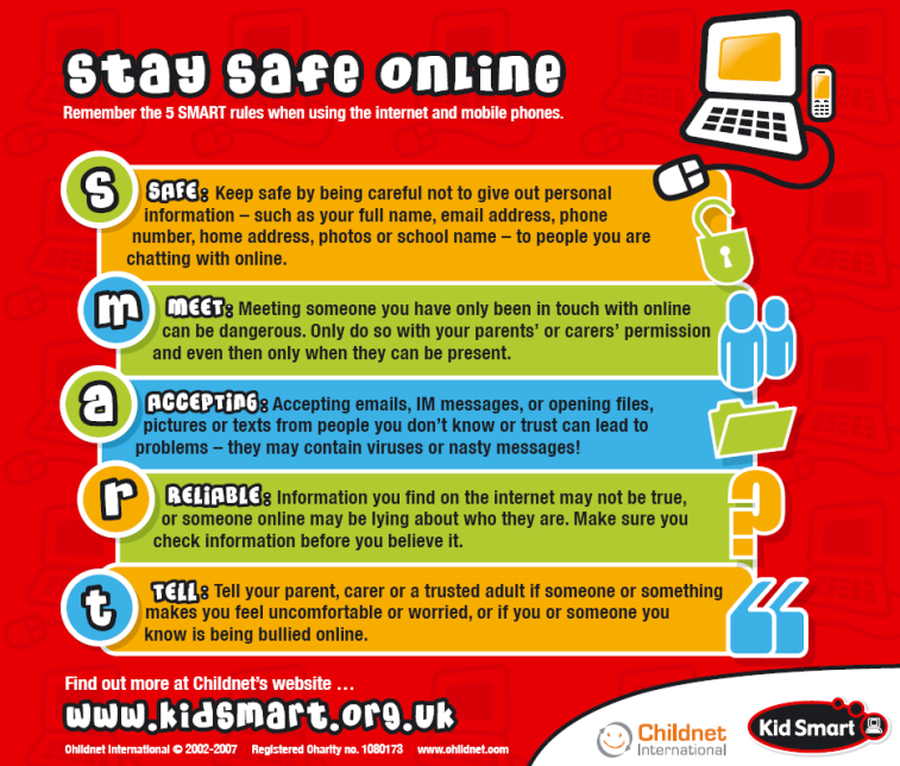 Here are a list of wesbites, recommended by Herts that you might find useful.
www.childnet-int.org - A non-profit making organisation working directly with children, parents and teachers to ensure that the issues of online child protection and children's safe and positive use of the internet are addressed. Childnet International produce an online CD guide specifically for parents KnowITAll - www.childnet-int.org/kia/
www.thinkuknow.co.uk - The Child Exploitation and Online Protection (CEOP) Centre has set up its own edcational website which has been designed and written specifically for children, young people, teachers, parents and carers.

www.getsafeonline.org/ - A beginners guide to using the Internet safety, including a quiz and some video tutorials about how to 'stay safe' on-line.
www.kidsmart.org.uk/ - Kidsmart is an award winning internet safety website for parents and those working with children. It has been developed by the children's internet charity Childnet International and has excellent information on many of the technologies used by children, with guidance on how to 'stay safe' online.

www.bullying.co.uk - One in five young people have experienced bullying by text message or via email. This web site gives advice for children and parents on bullying.
http://www.childnet.com/young-people/primary - This website contains lots of information and activities relation to the potential dangers with interactive services online like chat, IM, online games, email and on mobiles. It provides information, advice, true stories and games. This is the Primary Zone - you can explore and find lots of great links.